16-Aug-09 is another historical day for suncitizens residing at Suncity Apts, near Sarjapur junction, Bangalore when 50 Khatha completed without paying any bribe and were distributed by MLA, Mr Satish Reedy, Bommanahalli constituency. Addressing a gathering of 200 Suncity residents, Mr Satish Reddy congratulated the association office bearers on undergoing the process of legally obtaining khata without bribing anyone. He offered the residents to come forward and contact him for any issues concerning various Government departments in his constituency.
Although the journey was long to reach to this milestone and it took nearly 6 months but Kudos to our office bearers Kashinath Prabhu (Secretary), Vidyasagar Magdum (Treasurer), Chander hass Banotra (Vice-President) and our senior citizens especially Mr Ashok Kumar Dube for doing wonderful job on publicity, organizing camp for common documents, helping BBMP in arranging documents, visiting BBMP office minimum once every week and persistent follow ups.
How it all started
MLA meeting at Suncity premises
We invited our MLA and he joined us with officials from BBMP, BWSSB, Police, Traffic, BESCOM etc on 21-Feb-09 and we raised our multiple concerns to him including Khatha registration which is very difficult to get it done without paying any bribe and requested MLA to organize a camp in Suncity. Mr. Reddy agreed immediately and instructed BBMP officials to conduct a camp in Suncity within 2 weeks. Even after assurances from MLA, we were bit sceptical about it happening but started rigorous follow-up with BBMP officials and camp was held on 28-Feb-09 at Suncity premises.
Khatha Registration Camp at Suncity
We had confirmation from BBMP officials on 26-Feb-09 evening that camp will be held on 28-Feb-09 hence we immediately started publicity campaign within Suncity and nearby apartments. We had already instructed our residents to complete all the documents and SAOA executive committee arranged for all common documents for the benefits of its members and organized a camp for suncitizens to provide common documents before BBMP camp so that residents do not miss any document and their files should not be rejected. On the camp day, we could submit 86 khatha registration applications despite some hurdles faced from BBMP officials.
Follow-ups, Follow-ups and Follow-ups
Nothing moved for next 2-3 months as all Govt dept were busy with parliamentary elections. Many times, BBMP officials rejected a few files stating one or other document missing for which our association employee Mr Ajay, office bearers, senior citizens visited BBMP office and either pointed those documents in the files or collected those documents from flat owners and provided to BBMP. SAOA employee Ajay was a big help as he could do most of the running around with the help of and able guidance from senior citizens. Post elections, SAOA sent another letter to MLA to understand the status of khatha applications and within a fortnight, we could see some progress on this front. With persistent follow-ups by suncitizens from May-09 to Aug-09 and continuous pressure from MLA, at last, BBMP asked us to deposit the amount for khatha registration which is 2% of stamp duty. We collected all the demand drafts and deposited in bulk to BBMP office.
Once we got confidence that about 50 khathas have moved significantly than we thought of inviting MLA to distribute those khathas as without his help, it would have been an even more daunting task. Mr Reddy agreed to visit Suncity on 16-Aug-09 and instructed BBMP officials to release khatha for about 55 files before that. However, we are still waiting for remaining 30 applications to complete. These 30 applications are pending due to non-availability of OC (Occupancy Certificate) for some blocks, however, we have learnt that OC is not a mandatory document to get khatha hence we will be working on getting these khatha.
Taste of Success and Khatha distribution by MLA
BBMP released khathas for about 55 flat owners on or before 14-Aug-09 and SAOA organized an event to get it distributed by MLA. Mr Reddy distributed all khathas and pledged his support for future camps and mentioned that he can be approached by anyone. Speaking on the occasion, the President of Suncity Apartment Owners Association Mr Hariprakash Agrawal thanked the MLA for supporting the endeavour of residents.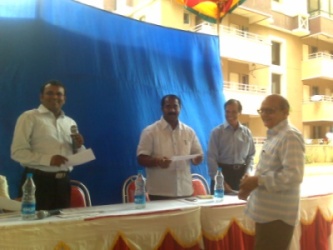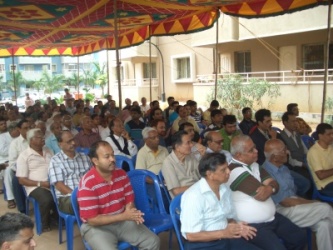 We all learnt lots of things during this journey and it will remain as one of the finest memories in our lives. One of the major learning is that strength of common man is in unity. Task is not over yet and we still need to organize a few more camps for Suncity and spread awareness for the larger society.
Hariprakash Agrawal (On behalf of Kashinath Prabhu, Chander Hass Banotra, Vidyasagar Magdum, Mr Ashok Dube and many more suncitizens who contributed whenever required and who remained united during this long journey)